SBS case Study
SBS

OnDemand goes ubiquitous with mpx and Player Dev Kit

Special Broadcasting Service (SBS), one of Australia's two free to air public broadcasters, sought a best-of-both-worlds scenario: take their online content to multiple platforms with high quality video, while also simplifying the end-to-end process of publishing and managing their existing and ever-growing library of content. thePlatform's mpx helped make it happen. SBS OnDemand was the end result.
Prior to using mpx, SBS relied on an internally developed video publishing tool. While the tool initially served its primary goal of getting a vast range of long form content, and short form clips online, their expanding volume of content and their desire to improve the viewer experience made a more advanced solution necessary.
SBS

' Goals

SBS wanted to achieve the following:
Deliver high quality video online
Increase the number of videos viewed, and time spent watching video
Improve the viewer experience with a more sophisticated player
Simplify the process of ingesting and managing files
Make available and manage more videos
Deliver content to multiple platforms
Increase ad support and better monetize their content
Support content sharing across a wider network
Publish video in multiple languages and provide closed captions
Personally recommend and curate content for viewers
The Challenge
SBS wanted to increase video consumption and grow their audience by delivering content in higher quality to the web, a greater number of platforms. Achieving that required a more sophisticated player and a new process for managing their content, so that their internal resources could successfully manage their video library with fewer steps.
A crucial requirement was that the user-experience be intuitive and compelling, enabling their viewers to quickly navigate and access a wide range of video content. Additionally, the solution had to offer unique recommendations to their audience and incorporate viral sharing so they could forward video clips to people via email and social networks, while providing monetization opportunities. 
thePlatform Solution
Rapid Implementation
Implementation took approximately three months, from onboarding to Beta release. Owing to this rapid launch was mpx's flexible file migration process. SBS simply wrote a script against mpx's API to transfer all of their existing media's metadata automatically, removing the length process of moving each file individually to the new system. The player was built with thePlatform's PDK and utilizes a number of plugins provided by partners in thePlatform ecosystem.
Simple Publishing with Feeds Service
SBS used thePlatform's Feeds Service to publish to the broadband player: the player subscribes to a feed, a set of media from SBS' account in thePlatform's system. The feeds from thePlatform contain all the necessary information to populate the multi-platform application experience, including thumbnails, title, description, timestamp, and most importantly, a single-stream URL that could be shared virally to the friends of end users via Facebook, Twitter, and email, or could be embedded in a web page.
Delivery to multiple platforms
SBS was the first network in Australia to deliver content to the Microsoft XBOX Kinect enabled platform. It also delivers to the web, YouTube, multiple iphone/android apps, the Sony Bravia connected TV platform, and has other connected TV and console platforms in the works.
More Advertising Revenue
The solution gives SBS a new outlet for revenue streams with pre-built integrations with DoubleClick and other VAST enabled providers.
Solution Features
Player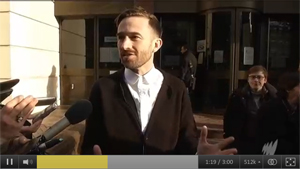 The Player Dev Kit gives SBS' viewers thorough information on available content and makes video easy to find and filter.
Users of SBS OnDemand can:
Create playlists of their content to be viewed at a later time. These playlists are portable across the various

SBS

OnDemand platforms and remembers where the user finished their last session, providing a true TV Everywhere experience.
Find out about upcoming broadcasts and programs as well as receive notifications about content, which has recently been added, or will soon be retired.
View live streams of major events from the OnDemand service.
Easily advance to the next episode in a series.
Search for video.
Going Viral with Sharing
Viewers can share "Send To A Friend" videos directly on Facebook and Twitter.
Multi-Language Support
In order to serve its diverse audience, the player supports the use of closed captions in up to five languages for select videos.
Increasing Views with an Integrated Recommendation Service
The Player Dev Kit integrates with TheFilter, an online discovery solution that personalizes the viewer experience by offering unique content recommendations that reflect an individual's tastes and moods through unique algorithms.
Daily Measurement of the Online Viewing Experience
Using thePlatform's analytics partners, Google Analytics, Omniture and Nielsen Video Services, SBS can track viewing duration, video visibility, audio volume, and much more. This capability, combined with granular audience demographics, syndicated reporting and advertising effectiveness, provides a comprehensive measurement of the entire online viewing experience.
Specific content delivered to the SBS online network
thePlatform has enabled SBS to be able to deliver a consistent video experience across is network of websites, tailoring the video experience and to each website based on the site's content focus.
What's next on the Horizon?
SBS is in the process of developing native iOS/Android applications, as well as targeting further Connected TV and OTT platforms.
"thePlatform's mpx and

PDK

solution has allowed

SBS

to launch a market leading, multi-platform catchup TV and on-demand video service that has significantly reduced the effort and time to market for deployments to new and emerging platforms. Users are watching video for longer, developers are happier, we have greater commercial opportunities and the editorial teams have more control than ever before."
- Matt Costain, Technical Director, Online