Grow Your Audience with Video Syndication

You may have great content to offer, but what really matters is whether it gets seen. Too often, content owners expect too much from their consumers by only publishing their videos on their own website or through a small group of outlets. In today's online world, your audience won't come to you; rather, you need to reach out to them through a variety of channels.
With mpx, you can quickly distribute your online video content to a variety of channels by syndicating with feeds, players, or media:
Feed Syndication

Feed syndication is the easiest way to distribute streaming and downloadable content. A feed is a regularly updated stream of content published by one site and picked up by other sites that "subscribe" to it. Video players, syndication outlets, and video search engines can all subscribe to a media feed. The mpx Feeds Service can reliably deliver video catalogs to syndication outlets and video search engines. When the feed is updated with new content, the outlet channels automatically receive the new media.
Player Syndication
Player syndication allows companies to control both the content and the user experience by placing a player directly in a partner site. It also allows companies to retain brand presence within the player and capture full advertising revenues.
The mpx Player Service and Player Development Kit (PDK) allow companies to build great looking players, which can either be hosted on their own site or given to an outlet as an embed-URL.
Media Syndication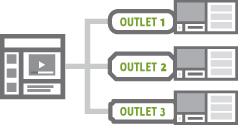 Media syndication is the most complex of all syndication strategies because you're linking to other channels, such as YouTube, Facebook and Roku, which already have their own players and feeds service. thePlatform simplifies this integration with mpx Connectors, which ensure that your media is compatible with each channel's unique requirements. They also give non-technical users the ability to deliver content to major mobile and online media outlets simultaneously or individually.
Let thePlatform Help You
thePlatform provides an enterprise-class, end-to-end video publishing and management system for media companies that want to syndicate their content. To learn more, download our white paper called "Growing Your Audience (And Your Business) with Video Syndication."