Online Video Publishing with mpx

Getting your videos online is easy with mpx – the most complete video management system available. With its dependable enterprise-class performance and efficient publishing to a range of PCs, mobile devices, and TVs, you won't have to spend nearly as much time on the logistics of your business. As the leading online video publishing platform and content management system, mpx will help you manage your video library, give you personalized workflows, and automate your publishing process. Built on top of our service-oriented architecture, you can get started quickly and will feel assured knowing that mpx will scale with your needs as your business grows.


The easiest online video management workflow
From ingest to publishing to feeds, the mpx console simplifies and streamlines your video management every step of the way.
Automatically ingest video content with Feed Readers or Watch Folders
Efficiently transcode and deliver multiple files in a single step with Harmonic and Elemental transcoding services and Aspera fast-file transfer
Save time by setting shortcuts to your everyday views and tasks
Create thumbnails or set chapter points with simple editing
Schedule, monitor, and manage Live Events within the mpx console
Post-broadcast, have your Live Event files seamlessly converted to video assets in your library
Support multiple dynamic streaming video formats like Akamai

HTTP

Live Streaming, Adobe

HDS

, and Microsoft Smooth Streaming
Easily reach a wide variety of internet-connected, video-enabled devices with Publish Profiles
Have your online video channel updated dynamically when you add new video and/or editorial content
Use the Player Service to create and manage great-looking players for PCs, tablets, smartphones, and

OTT

devices
Enhance and manage your metadata with TV Data Services, which also provides deep search capabilities and powers interactive internet TV experiences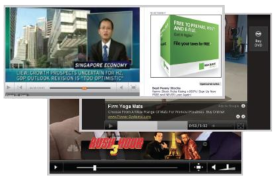 Extensive support for complex online video business models
mpx has the broadest array of tools to help your online video business succeed:
Our Video Commerce solution makes it easy for your customers to discover and purchase the video content they want
Maximize customer data to create new and personalized video content packages and promotions
Define online video advertising policies that can address when to present an ad and designate which ad server to work with
Build a digital store with the help of our Consulting Services team
Use mpx Reports and Conviva Viewer Insights (beta) to track your online video business
Our TV Everywhere solution authenticates users and authorizes playback based on their subscription package
Control access to your video content with restrictions using stream concurrency, geo-blocking, IP addresses, tokens, access keys, domains, and availability windows
Expand your video syndication reach with Connectors, Players, or Feeds
Deliver a Great Viewing Experience
The Player Service in mpx lets you create highly functional and attractive players for any video-enabled device:
Customize and manage great-looking video players for PCs, mobile devices, and

OTT

devices with the Player Service
Increase online video views with dynamic or curated feeds, drag-and-drop ordering, and lineup previews
Ensure a positive viewing experience on every device with seamless switching between HTML5 and Flash players
Get full support for your social media plan with our Facebook, Twitter, and other integrations
Easy access for embedding codes, links, and

HTML

for video players
Extend the capabilities of your player with plugins for online video advertising, analytics, discovery, and more
The only enterprise-class online video platform (
OVP

)

We offer unparalleled expertise and support for your online video business:
mpx provides a 99.99% uptime guarantee for consumer services, the highest in the industry
Transcode, encrypt, and move files from within your network with our unique Remote Media Processor
Get help whenever you need it with our 24/7 phone support and dedicated team of Account Managers and Client Integration Engineers
Access end-to-end service capabilities with our experienced Consulting Services team